MODEL : VIRAAT-1000
Shreeji Expeller Industries is the top most Indian manufacturer and supplier of oil extraction machinery and components to oil extraction plants, oil mills, oil refinery plants and bio-diesel plant production houses. The company incorporated in the year 1992 was established by Sh. Naresh Kumar Goyal. And right from the start we are serving both local and international markets efficiently and commercially.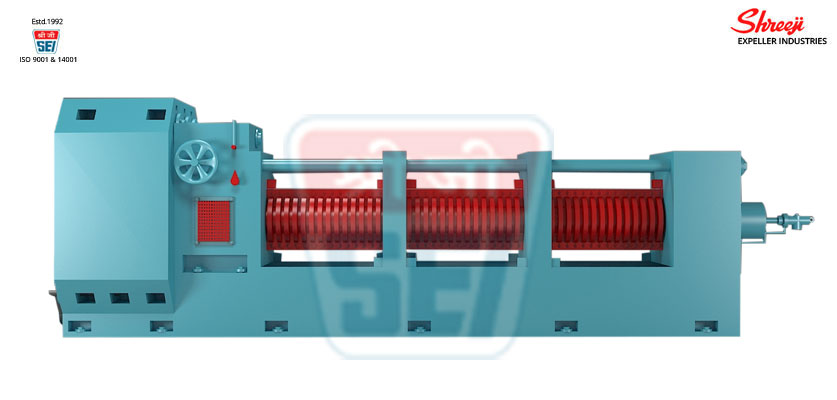 FEATURES :
Steel : Each of 36″ Long Eliminates the difficult task of removing box for replacement of worms.
Steel Casted Chambers : Reduces time and labour for relining of Cage Bars The main Shaft of the Expeller is of alloy steel construction, fitted with High Pressure Worms, hard faced, with a highly wear resistant alloy.
Shaft Withdrawal : The main Worm Shaft can be withdrawn easily without disturbing the gear section. The thrust of the pressure worms is taken upon large spherical roller thrust bearings.
Gear Box & Lubrication : An improved triple helical parallel shaft gear unit made from most suitable special steel, running in oil bath. All shafts run on antifriction bearings. Drive housing is oil tight and dust proof, totally enclosed design and is fitted with level indicator. A self contained lubrication arrangement has been provided.
Kettle / Cooker : Multistage vertical stack cooker for proper conditioning of the seeds.
Lower operation and maintenance cost : Due to sturdy construction and stringent quality norms our machines work with higher efficiency and incur lower maintenance costs.
Premium expelled oil quality : Well designed worm assembly and chamber construction ensures superior quality of expelled oil.
Superior Quality of Cake : The cake quality is excellent and cake produced from the machine is of natural colour without charring or burning effect .
Retention of oil in cake : Superior process parameters ensure accurate retention of oil in the cake . Power:The power required is 3-Phase 170 H.P. Motor.
Capacity : 140 to 150 Ton (In 24 Hours) in pre-pressing and 50-60 Ton in Single & Final crushing.
Cooker / Cooking Vessel :
Brief Outstanding Features
Cookers / Heating Kettles are used for proper heating and conditioning of the oil seeds prior to expelling.Controlled heat and moisture open up the oil bearing cells for maximum oil yield.
Construction
These Cookers are all steel fabricated with steam heated jackets for each compartment. These jackets are suitably welded with studs and hydraulically tested before assembly. All compartments except the top one are provided with hinged doors for easy access.
Heating
Steam jackets are indirectly heated by steam and cookers are complete with necessary fittings i.e. valves, pressure gauges, relief valves, steam traps and thermometer. Bottom stage insulation of the Cookers avoids unnecessary heat losses. Insulation can be provided at extra cost.
Moisture Addition
Open steam spray is provided for bottom compartment of smaller cookers and for other sizes at the top and bottom compartments.
Control
Seed temperature, retention time in each stage, moisture content and depth are easily controlled.
Drive
The vertical shaft carries biparted agitators for each compartment and is driven from an independent electric motor through V-Belt and vertical cooled worm type speed reduction gear box.
Steam Consumption
Higher figures are for starting up and the lower figures are for steady running.
Dia x Ht.(mm)
No. ofCompartments
Total Heating area
in Sq. M
Total volume
Cu. M.
Steam Consump.
Kg/hr.
Steam Pressure
Kg/cm2
Motorsmain drive H.P.
Exhaust FanMotor H.P.
Main Drive
1676×2438
5
11.035
6.230
160
8
20
1.5
V. Belt &Gear Box