MODEL : VIRAAT-210
Shreeji Expeller Industries is the top most Indian manufacturer and supplier of oil extraction machinery and components to oil extraction plants, oil mills, oil refinery plants and bio-diesel plant production houses. The company incorporated in the year 1992 was established by Sh. Naresh Kumar Goyal. And right from the start we are serving both local and international markets efficiently and commercially.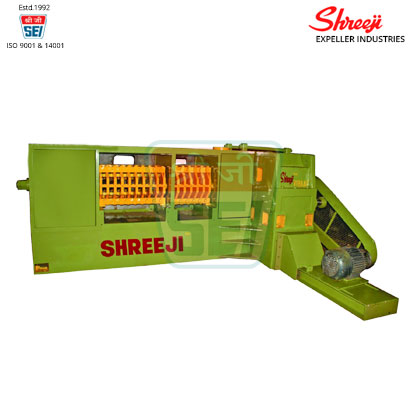 FEATURES :
Chambers : Reduces time and labour for relining of Cage Bars
The main Shaft of the Expeller is of alloy steel construction, fitted with High Pressure Worms, hard faced, with a highly wear resistantalloy.
Shaft Withdrawal : The main Worm Shaft can be withdrawn easily without disturbing the gear section. The thrust of the pressure worms is taken upon large spherical roller thrust bearings.
Gear Box & Lubrication : An improved triple helical parallel shaft gear unit made from most suitable special steel, running in oil bath. All shafts run on antifriction bearings. Drive housing is
oil tight and dust proof, totally enclosed design and is fitted with level indicator. Aself contained lubrication arrangement has been provided.
Kettle / Cooker : Multistage vertical stack cooker for proper conditioning of the seeds.
Lower Power Consumption: The Selection of motors is done keeping in mind the peak load that could arise due to inconsistent feeding resulting in lower power consumption.
Premium expelled Oil Quality : Well designed worm assembly and chamber construction ensures superior quality of expelled oil.
Superior Quality of Cake : The cake quality is excellent and cake produced from the machine is of natural colour without charring or burning effect .
Retention of oil in Cake : Superior process parameters ensure accurate retention of oil in the cake.
| Model of Expeller | SHREEJI VIRAAT-210 |
| --- | --- |
| Chamber | Two Chambers |
| Capacity | 18 to 21 TON / 24 Hour |